At Edenbridge, you have the privilege of being immersed in verdant greenery. A private garden leads to the front steps, and behind, a backyard opens onto a quiet sanctuary, an oasis of trees and vegetation. The expansive windows offer picturesque views of your personal escapes and pull a flood of natural light into the interiors.
Whether sunrise or sunset, the Garden Townhomes brim with well-lit rooms that make each space seem larger, each sight richer, and each day that much brighter.
Main Floor.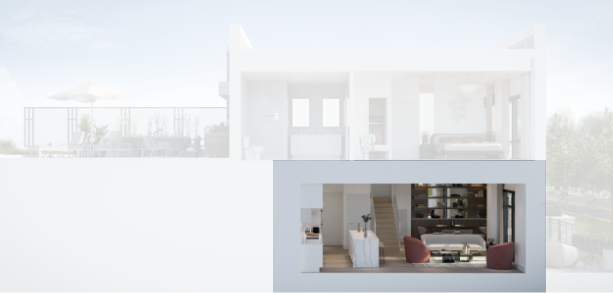 Rich materials and thoughtful details evoke a sense of timeless elegance in every space within your Edenbridge townhome. Luxury appliances provide a chic, innovative counterpoint. Your home makes lavish use of natural materials to create a stunning environment. Natural stone, quartz, and wood grace the interiors, an interplay of the sleekly modern with the treasured traditional.
Throughout your home, engineered hardwood flooring adds to the feeling of a luxurious retreat. In the kitchen, in addition to a spacious pantry, double square edge natural stone or engineered quartz countertops and fully integrated Miele refrigerator and dishwasher ensure convenience and efficiency as well as beauty.
Contemporary style interior doors with coordinated hardware welcome you in.
Second Floor.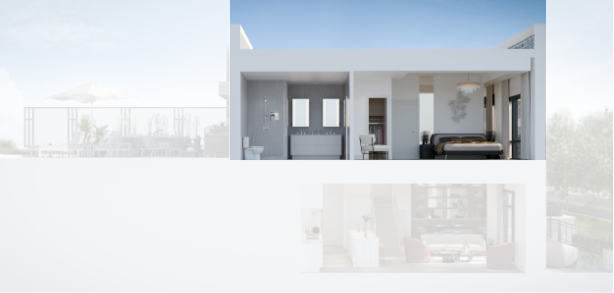 The townhome's ambiance changes as you move upstairs, instilling a serenity and calmness that extends across the second floor and its bedrooms. The transition was deliberately conceived to create two distinct worlds of entertainment below and quiet comfort above.
Spacious walk-in closets and closet organizers.
The Bedrooms.
The bedrooms have been thoughtfully considered to maximize size. The layouts are seamless, open spaces that lead up to expansive windows overlooking the green, vibrant community. Inside, spacious walk-in closets and closet organizers are well-equipped to store all your belongings in a manner that is neat, organized and easily accessible.
The Bathrooms.
Designed as a luxurious refuge from the everyday, the bathrooms evoke feelings of absolute peace and relaxation. From the large windows that something sunny interiors, and glass-enclosed shower or soaker tubs, to the chrome faucets over the His and Her sinks, the bathrooms and ensuites are an ode to pampering and rejuvenation. Just outside, you also have a full-sized laundry for the ultimate convenience.
*Prices and specifications are subject to change without notice.
Certain features and finishes are upgrades and may be unavailable. Balcony, terrace(s), patios and façade variations may apply.
Furniture, BBQs and planters on balcony and terraces are for illustration purposes only and subject to change. Contact a sales representative for further details.
Book an appointment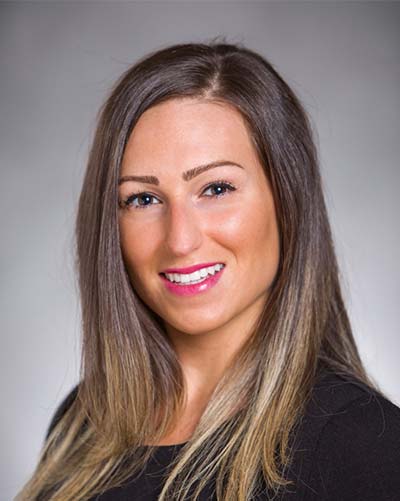 Vanessa Pomante
Broker
Del Realty Inc. Brokerage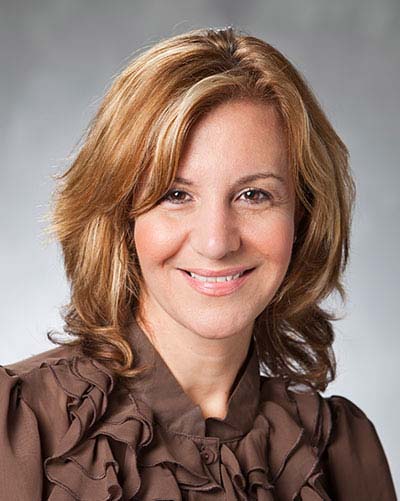 Marisa DiCecca
Senior Sales Representative
Del Realty Inc. Brokerage
©Tridel 2021. ®Tridel,
design, Tridel Built for Life, Tridel Built for Life & Design, and Built Green Built for Life are registered Trademarks of Tridel Corporation. Tridel Connect™ and The Lobby ™ are Trademarks of Tridel Corporation. Project names and logos are Trademarks of their respective owners. All rights reserved. E.&O.E. August 2021